Directly on soil and gravel
OUT 2.0 can be installed directly on top of soil and gravel.
The flooring is easy and fast to fit, and the resulting surface can be put into service immediately; it can be taken up and used for other applications.
A winning solution that combines fabulous looks, top quality features and unequalled convenience.
Applications:
Court yards
Gardens
Outdoor public areas
Paths
Benefits
Dry installation is easy and fast, without the need for adhesives or grouts.
The slabs can be taken up and used again for other applications.
Easy to clean and stain resistant.
Technical Guide
Direct laying on top of gravel assumes a natural, inevitable settling process of the sub-floor that it is important to take into account during the planning stage and for the use of the flooring.
Refin recommends careful analysis of the intended use of the floor to ensure the best method is used to fit the floor based on the specific demands.
How to tile
Level the layer of gravel with care.
Put the slabs into position.
Use spacers to ensure the distance between all the slabs is the same.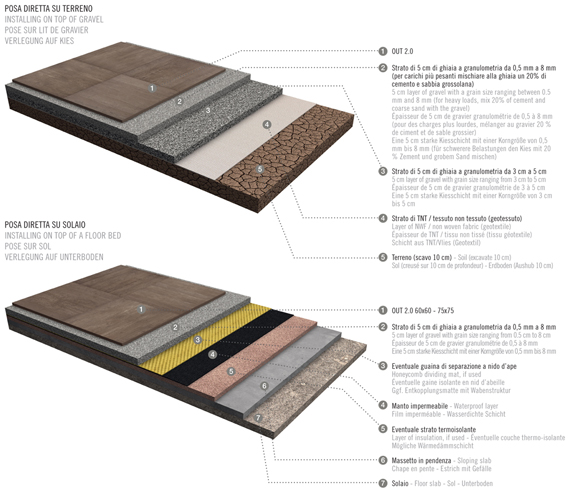 The layers used depend on the type of application of the product: Refin recommends checking the specific standards that apply in your country to ensure the flooring is fitted correctly.
Considering that porcelain stoneware is completely waterproof, the flooring must be provided with an appropriate slope for the conditions in which it is to be used, to allow rainwater to drain away.
Nevertheless, as a result of the surface tension of the water, a film of water may remain on the surface for a few hours before evaporating. Should liquid remain on the surface, it is recommended to push it towards the grout lines using a floor brush or remove it with a wet and dry vacuum cleaner.
Recommendations for dry installation
If the application of the 20 mm slabs foresees the ceramic product used in structural installations, the project engineer and/or customer must carefully assess the project requirements with regard to the technical specifications of the slabs.
To prevent the risk of damage or injury, the manufacturer recommends:
With regard to a raised floor installation a ceramic slab may fracture on impact if a heavy object falls on it from any significant height. Therefore the manufacturer recommends to check the specific intended use before starting the installation and to follow table for raised installation provided below. In certain conditions, reinforcing must be applied on the back of the slabs (mesh plus or galvanized steel sheet) supplied by the manufacturer;
With reference to any dry installation system of flooring above the ground level, the manufacturer recommends to comply with local regulations and conditions of use with regard to wind-load, loadbearing, seismic events, etc.
Failure to comply with these recommendations may lead to improper use of the product and could cause serious damage or injury.