Advantages of Thick Tiles
The monolithic slab is perfectly squared with a single work-size in a thickness of 20 mm, making tiling easier and faster compared to other materials with uneven edges.
OUT 2.0 is also synonymous with versatility: it is lighter and more practical than cement-based concrete and natural stone, guaranteeing an excellent load-bearing capacity and resistance to breakage, while enabling design continuity with any flooring fitted indoors.
Since it is easy to clean and stain resistant, OUT 2.0 does not need any special treatments, making its maintenance demands particularly easy going.
Benefits of Thicker Tiles
Easy to install
Resistant to breaking loads
Unaffected by the passing of time
Resistant to thermal shock
Easy to clean
Superior non slip performance
Perfect indoor/outdoor coordination
Removable for ease of inspection
Can be reused
Frost proof and fireproof
Not affected by acids
Eco friendly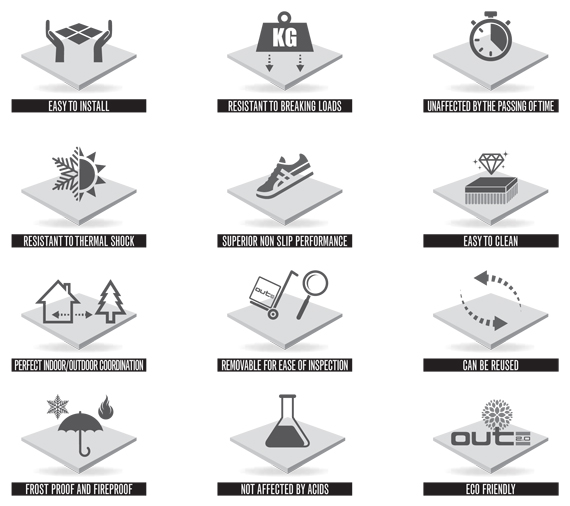 Applications of 2 cm Thick Tiles
Court yards
Garages
Gardens
Paths
Outdoor stairs
Outdoor public areas
Swimming pool surrounds
Verandas