Traditional Adhesive Systems
The excellent hardwearing properties of 20 mm thick OUT 2.0 porcelain stoneware make it an ideal solution for surfaces that will be driven over by vehicles, provided it is installed using an adhesive and on a properly prepared concrete slab.
Its superior anti-slip performance make it ideal for specific applications such as swimming pools and spas.
Available in the 60×60 cm, 75×75 cm and 45×90 cm sizes, OUT 2.0 combines good looks and practical use with a full range of colours and surprisingly low maintenanceand cleaning demands.
Apllications:
Court yards and garages
Outdoor floors
Outdoor stairs
Balconies and patios
Outdoor public areas
Swimming pool surrounds
Garages
Benefits of Adhesive installation
Ideal for floor surfaces subject to road vehicles.
Easy to clean and stain resistant.
High resistance to strain.
Can be used for swimming pool surrounds.
Technical Guide
Refin recommends careful analysis of the intended use of the floor to ensure the best method is used to fit the floor based on the specific demands.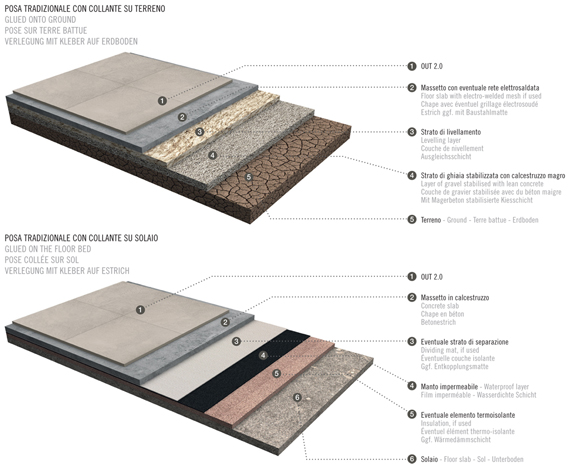 The floor surface can only be considered suitable for road vehicles if it has been installed correctly using an adhesive and on a properly prepared concrete slab.
Considering that porcelain stoneware is completely waterproof, the flooring must be provided with an appropriate slope for the conditions in which it is to be used, to allow rainwater to drain away.
Nevertheless, as a result of the surface tension of the water, a film of water may remain on the surface for a few hours before evaporating. Should liquid remain on the surface, it is recommended to push it towards the grout lines using a floor brush or remove it with a wet and dry vacuum cleaner.