Ventilated façades
The ventilated façade is a dry-mounted cladding system that creates a cavity with the external wall on which it is applied.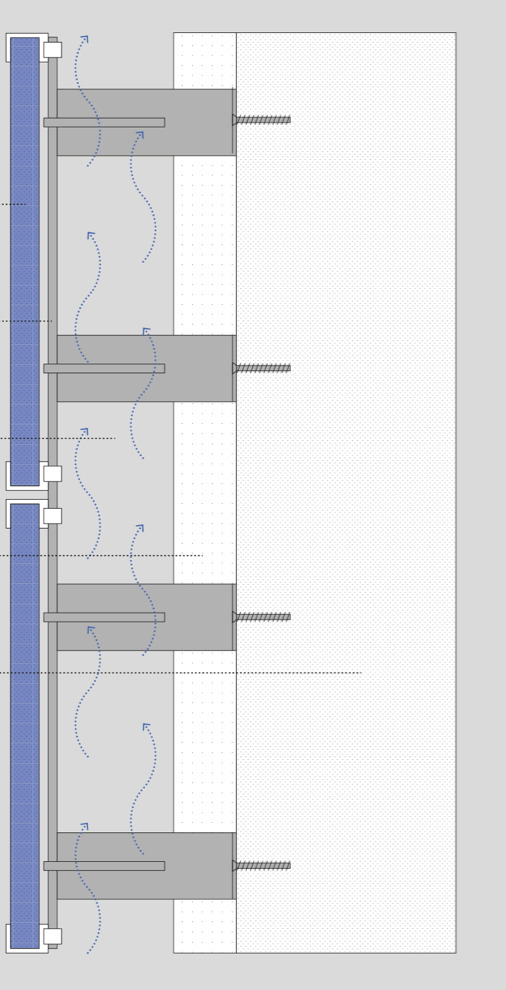 Porcelain stoneware for ventilated façades
In the cavity between the external wall and the ventilated façade the "stack effect" generates a rising flow of air is created, allowing natural ventilation to be achieved and guaranteeing the breathability of the building and the optimisation of the heat and energy performance levels, with the consequent reduction in consumption levels and the enhanced well-being of the building's occupants.
Benefits
Save energy
The ventilated façade creates a genuine "heat shield", protecting the building from heat in summer and insulating it from cold in winter.
It fights smog and atmospheric agents
The ventilated façade protects the building from atmospheric agents and pollutants, minimising the deterioration of the masonry structure.
It lets the building breathe
The ventilated façade is extremely breathable, allowing the moisture produced inside to be diffused outside, eradicating thermal bridges and condensation and therefore making the settings healthier.
It improves the acoustics
The ventilated façade is a multi-layer system which eradicates acoustic bridges and guarantees greater noise absorption in the settings.
Long-lasting / Respect the existing building
The ventilated façade does not require any maintenance, its colours do not fade and it retains its functionality and visual appearance over time.
Fire resistant
Thanks to the technical features of the porcelain stoneware the ventilated façade is totally fireproof.

Porcelain Stoneware
Resistant to sudden temperature changes and to atmospheric agents and durable over time, porcelain stoneware is the ideal material for cladding buildings with the ventilated façade system: Refin surfaces guarantee superior technical performance levels and certified quality, offering the utmost freedom of styles to blend in with a multitude of architectural accomplishments.
For all technical details, download the catalog