Made in Italy
Italian Porcelain Tiles
Italian tiles 100% Made in Italy
At Refin, "Made in Italy" does not only mean style, but it represents a productive model combining the creative flair typical of our culture with the work ethics that have always characterised Italian manufacturing tradition.
For this reason, we have adhered to the Made in Italy ethical code promoted by Confindustria Ceramica, stating, with clarity and transparency, the origin of our products.
High quality porcelain tiles
Ceramiche Refin produces more than 6 million m² of porcelain tiles per year, supported by avant-garde machinery for the creation of surface graphics and post-manufacturing processes, as well as a modern laboratory committed to the research and development of new technological and aesthetic solutions.
All the phases of our production process undergo strict Quality Control procedures and the excellent quality standards of our products are certified by the most important international certifications.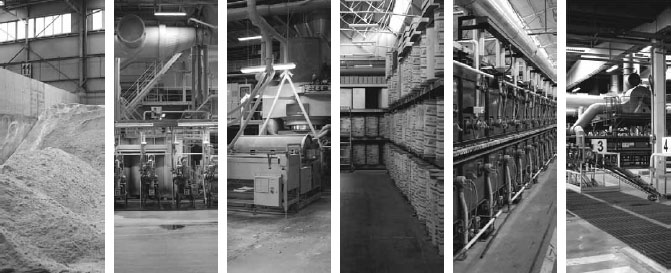 Sustainable Italian Tiles
The constant search into the new opportunities technology creates, gives us the chance to make industrial production more compatible with the environment that surrounds us: this is our Green philosophy.
Everyday, we strive towards the development of products which have a low environmental impact, able to create efficient sustainable building projects.
Some Refin ceramic collections meet the standards of the prestigious Ecolabel European certification, which is an indication of environmental criteria for every single phase of product lifespan, from the selection of raw materials to the use of energy and water resources and the final disposal of the product.
The search for eco-compatible products has recently led to the creation of ceramic collections that are manufactured using precious raw materials and ceramic mixes using pre and post consumer recycled material, in line with the LEED rating system (Leadership in Energy and Environmental Design), in 2009 Refin was awarded the prestigious prize "Premio all'Innovazione Amica dell'Ambiente" sponsored by Legambiente.

What does it mean to produce Ecolabel certified tiles?
Reducing the environmental impact in the extraction phase of raw materials.
Save energy and recycle water during the production process.
Reducing the release of polluting agents into the atmosphere.
With a low release of polluting agents which are dangerous to mankind (for example lead and cadmium).
Informing the consumers by means of the packaging and the explanatory materials relevant to the compliance of the product with Ecolabel certification standards.
Giving suggestions and warnings for the use, maintenance and installation of the product.
Creating a waste management system through the differentiated refuse collection and the recovery, if possible, of waste generated by the production process.