A dry tile-laying system
SET-IN comprises a Refin porcelain tiles onto which a lower covering in cork with a thickness of 2mm and an outer edge in ABS with anti-shock function with a thickness of 0.6 mm are is applied.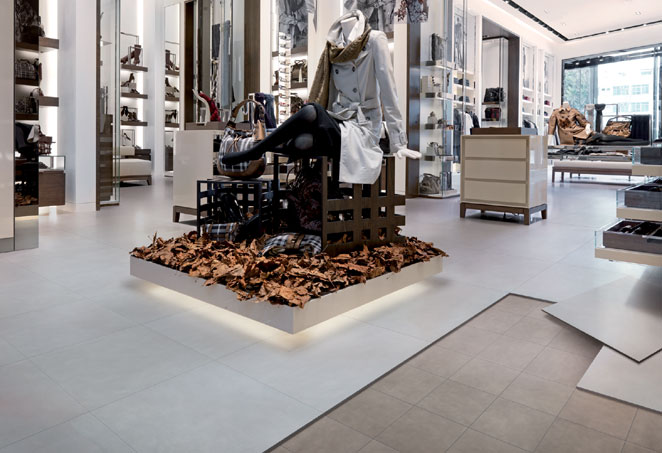 The lower covering is manufactured using cork. This cladding guarantees important anti-skidding qualities and provides acoustic insulation. SET-IN is fire-proof and resistant to detergents and chemicals.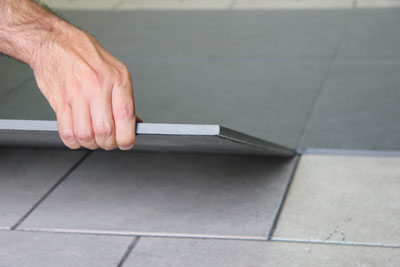 The outer edge in ABS has an important anti-shock function as it reduces the perimetral friction between adjacent slabs and facilitates the lifting of the slabs once the floor is installed.
SET-IN can be directly installed onto pre-existing surfaces, be they industrial, residential or raised floors. It does not require the use of adhesives and grouts, making the installation easy and quick as well as reducing associated costs. The floor can be immediately walked on and can be removed and re-used elsewhere at any time.
SET-IN is the perfect solution to renovate your floors without damaging the pre-existing covering as is often the case during the renovation of shops, rented venues or historic buildings.
Self-fixing floor advantages
Easy to install as it does not require adhesives or grouts
Reduction in installation times and costs
The floor can be immediately walked on
Does not damage the pre-existing floor
Removable and reusable
Fire-proof, resistant to the attack of moulds, detergents and chemicals
Available in all Refin collections and in